Plot Document
Plot windows contain the commands for creating and modifying grid files, and for creating all types of maps. When you first start Surfer you are presented with an empty plot window.
Plot Document Commands
| | |
| --- | --- |
| | Open and save files, import or export data, print, and set options and defaults |
| | Contains common editing, selection, feature, grid, and map commands |
| | Arrange and position maps and features in the plot document |
| | Draw features and perform geoprocessing |
| | Perform grid operations |
| | Add map layers, and edit or analyze maps and map layers |
| | Controls the display of toolbars, status bar, rulers, grids, and managers, resets window positions, tracks cursor between map and worksheet, and controls the zoom level of the plot |
The Application/Document Control menu commands control the size and position of the application window or the document window.
Tab View
The plot, worksheet, and grid node editor windows are displayed as tabbed documents. When more than one window is open, tabs appear at the top of the document, allowing you to click on a tab to switch to a different window. The tabs may be dragged to reorder them. When a document contains unsaved changes, an asterisk (*) appears next to its tabbed name. The asterisk is removed once the changes have been saved.
Plot Window
The plot window includes imported graphics, drawn features, and maps. The plot window is the main space for creating and editing maps in Surfer. Left-click the image to see detailed information about the plot window components.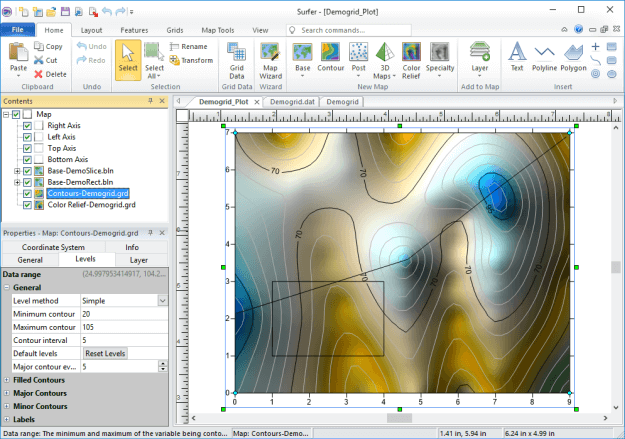 This is the Surfer plot window with the Contents and Properties windows on the left, the plot, worksheet, and grid node editor tabs at the top of the horizontal ruler.
Other Useful Plot Document Information
Application/Document Control Menu Commands
See Also