Variogram Model Graphics
When in doubt, you should use the Linear variogram model with the default Scale (C) and Length (A) parameters.
In the Variogram Properties in the Properties window, click on the Model tab. Click the Add button to open the Add Component dialog. Select one of the variogram model components and click the OK button.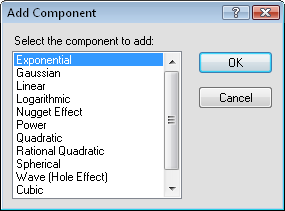 Select a variogram model component in the Add Component dialog.
Variogram Model Components
The variogram model components available in Surfer are:
See Also